We give your plans space
Creating ideal, future-proof learning and working conditions is the requirement of every education centre. The C training centre, which we have constructed in an exemplary manner, offers plenty of space for modern technical education. It contains training labs for all phases of technical learning. The open learning environment promotes solution-oriented, independent learning and working.
Centre for technical knowledge transfer
The training centre offers ideal conditions for learning in theory and practice. From the floor plan to the furniture, the equipment, machines and systems to the presentation technology, this training centre meets the requirements of modern technical education. The representative building is to be used flexibly and multifunctionally – with the infrastructure for internal as well as external events.
The C training centre
Thematically connected areas with great flexibility
Integrated training labs combine theory and practice
Rooms and equipment for ideal learning/working conditions
Shared rooms, cafeteria and meeting points
High transparency and good natural light conditions
Training Centre Ground Floor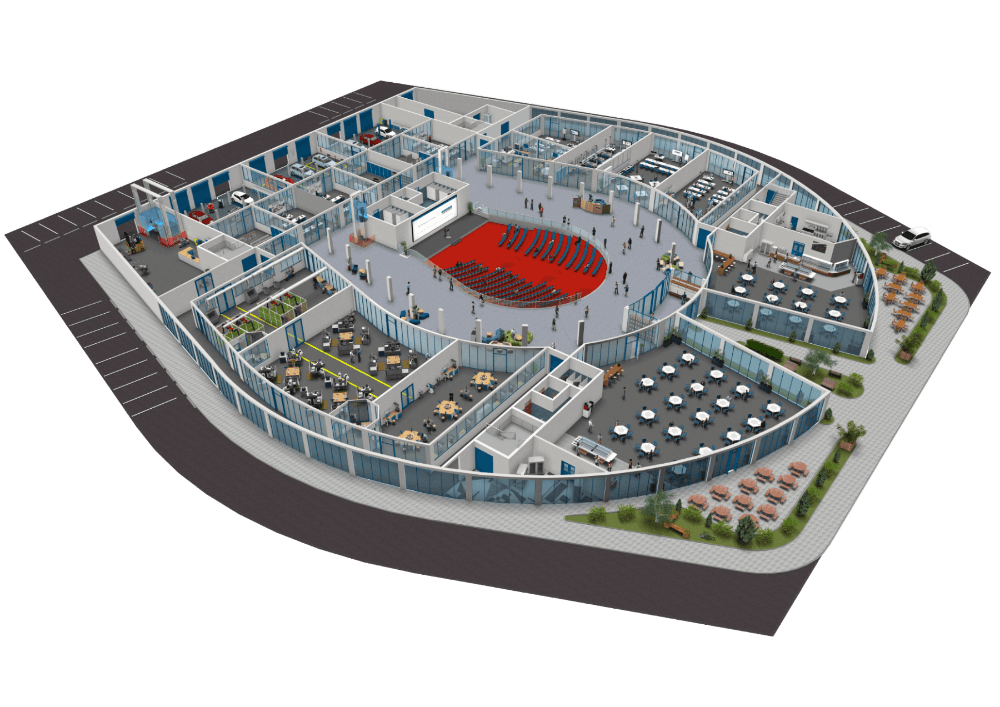 X

High-voltage Technology in Vehicles
Designed for modern hybrid and electrical systems, this training workshop meets all the necessary requirements for vocational training.
X

Suspension and Brakes
Trainees learn specific knowledge about the design, structural relationships as well as the interrelationships within the vehicle systems.
X

Engine and Automotive Technology
Designed for the areas of service and maintenance on vehicles, this training lab also teaches the use of modern diagnostic and measuring systems.
X

Welding
The new virtual welding training concept is unique for welder qualification. We also equip complete welding rooms, from welding equipment and accessories to welding booths and modern extraction systems.
X

Machine-based Material Processing
Turning, grinding, milling and drilling: In our training labs you teach the skills for machine-based material processing from job planning to exam preparation.
X

Manual Material Processing
Ideal for the basics of metal and plastics processing: All the necessary skills and abilities in manual materials processing can be taught at manual workstations and on simple machine tools.
X

Shared rooms
Cafeteria and meeting points
X

Hydraulics
Step by step to practice-oriented hydraulics know-how: The industrial training systems and accompanying didactic documents ensure successful training concepts for basic and advanced training.
X

Pneumatics / Electropneumatics
In the pneumatics / electropneumatics training lab, theory and practice go hand in hand. The topics include planning, commissioning and maintenance of (electro-)pneumatic control systems.
X

CNC Technology
In this training lab, all steps of modern CNC technology can be taught in a practical and realistic way - from 3D design and CNC programming to production on CNC machine tools.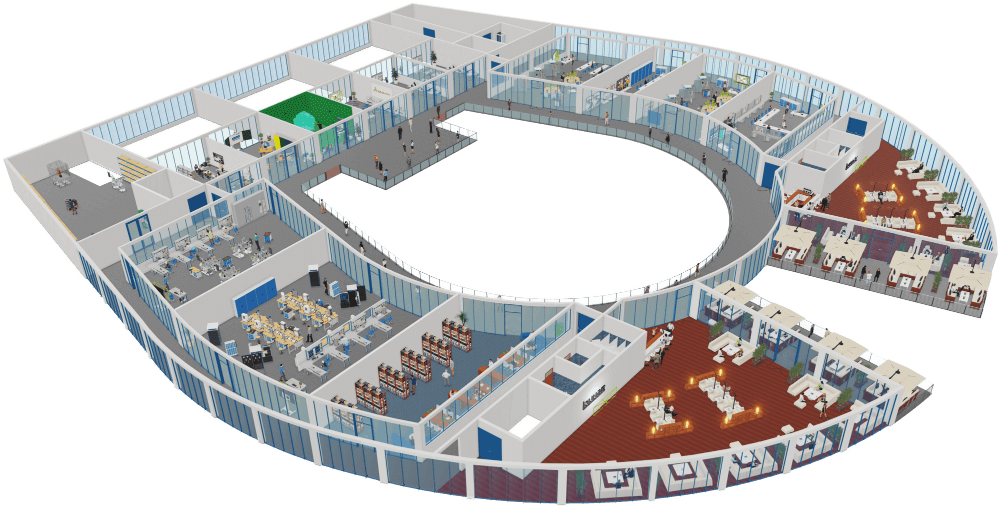 X

XR Lab
The XR Lab creates completely new possibilities for imparting knowledge. By means of virtual and augmented reality.
X

Classrooms
We customise your rooms according to the conditions and requirements in your facility or company.
X

MakerSpace for Schools
The MakerSpace offers the optimal solutions to promote co-creative work at school and to develop own ideas.
X

Industry 4.0
From PLC programming and control to complex processes in networked production plants.v
X

Electrical Engineering Workshop
Manual skills such as assembly, wiring, installation and commissioning of machines can be learned here.
X

Electrical Engineering Lab
The trainees acquire the basic knowledge of electrical engineering and the basics of programming using practical training systems.
X

Shared rooms
Cafeteria and meeting points
X

Environmental Technology
The mobile and flexible teaching system Heating Technology can be used to teach the topics of heat pump, solar thermal and biomass heating. With the energy management system, the heat pump can also be operated autonomously.
X

Supply Technology
The mobile teaching systems for gas technology, bathroom installation, drinking water, heating hydraulics including the Wilo-Brain Box are used here.
X

Assembly Workshop
Classic assembly work is carried out here in a modern and professional environment at highly flexible workstations and taught in theory and practice using modern tools.
X

MakerSpace for Vocational Training
The MakerSpace enables cooperative work, the development of own ideas and the creative implementation of tasks in vocational training.
Training Centre Upper Floor
Assembly Workshop
MakerSpace for Schools
MakerSpace for Vocational Training
Classrooms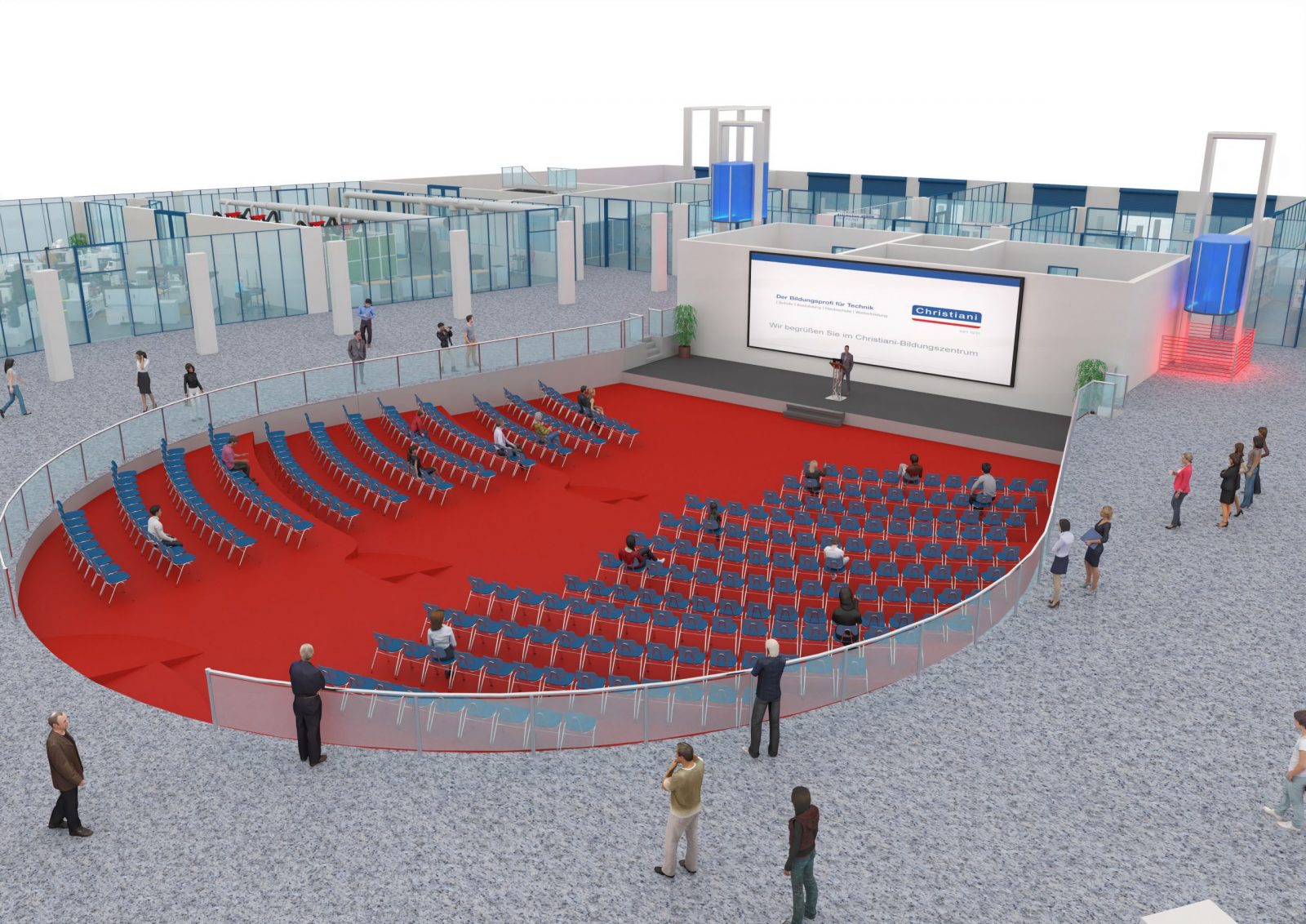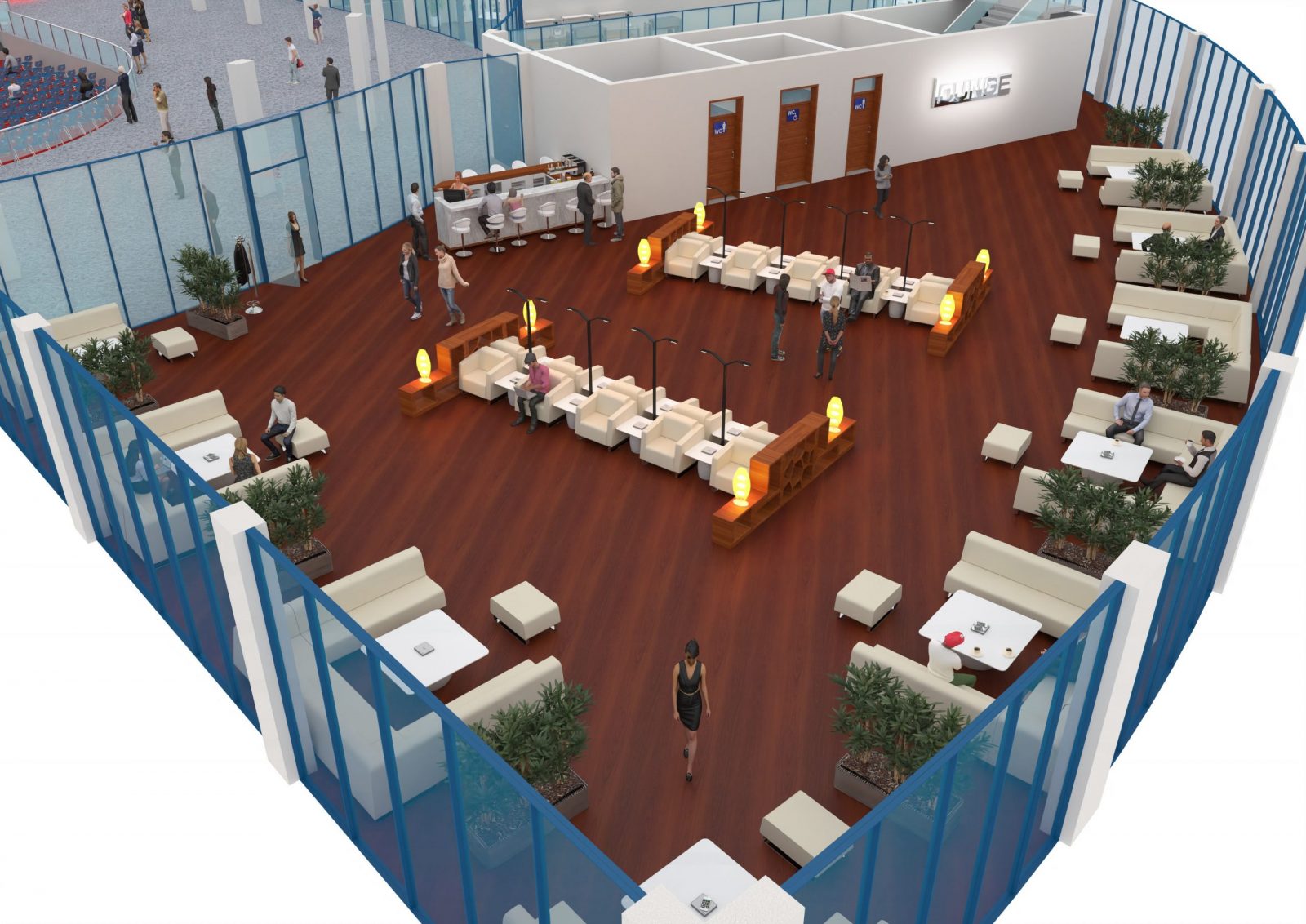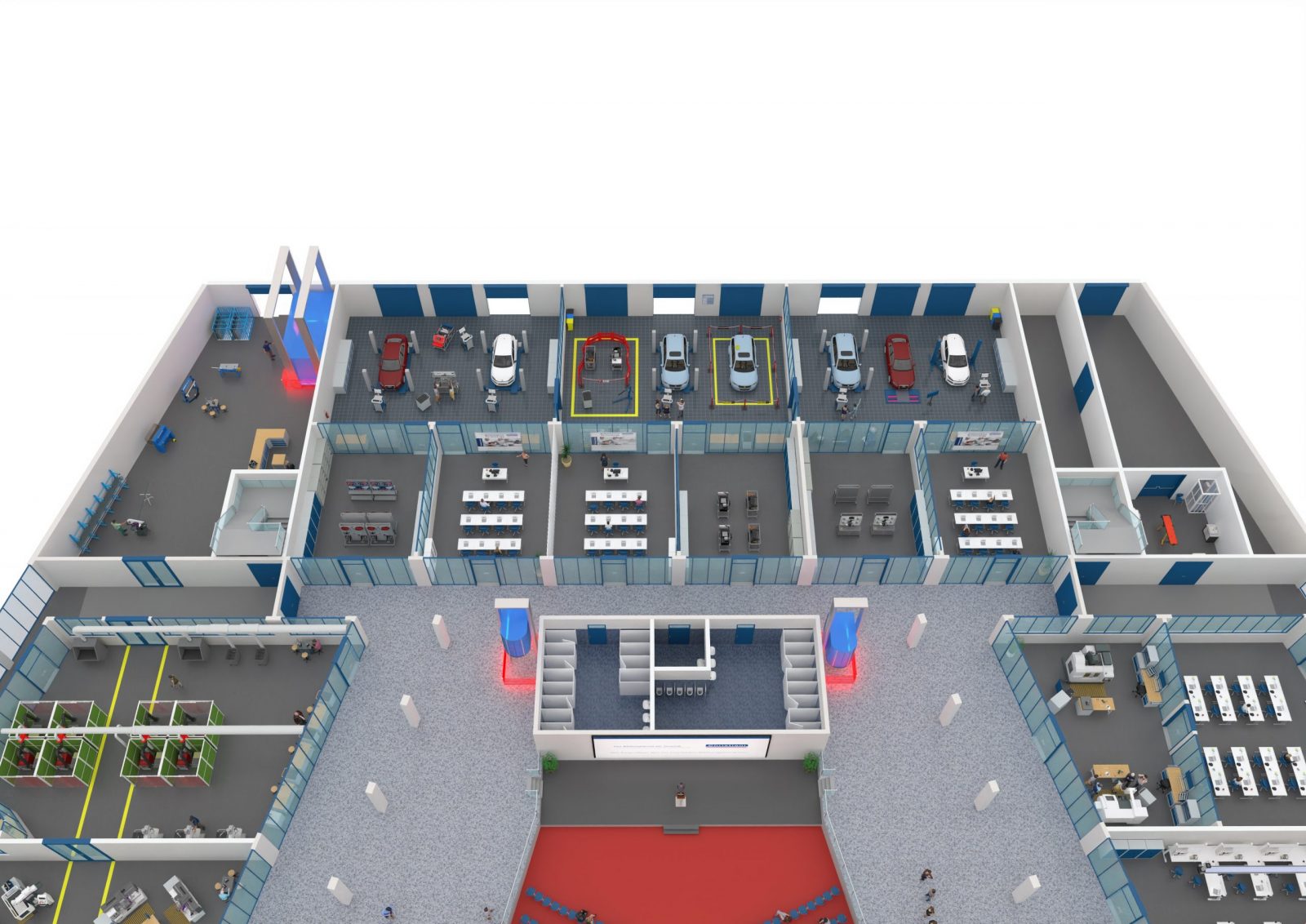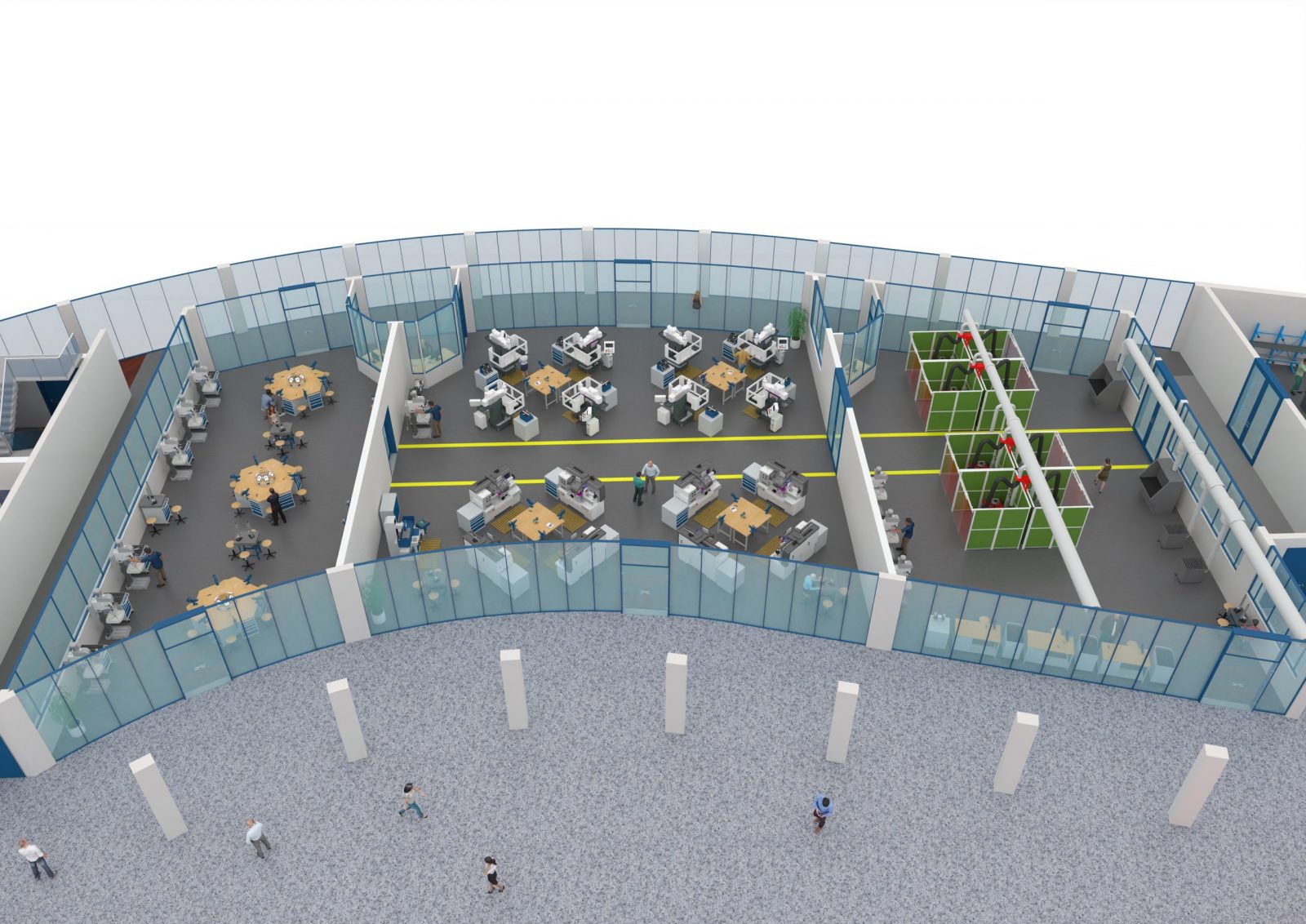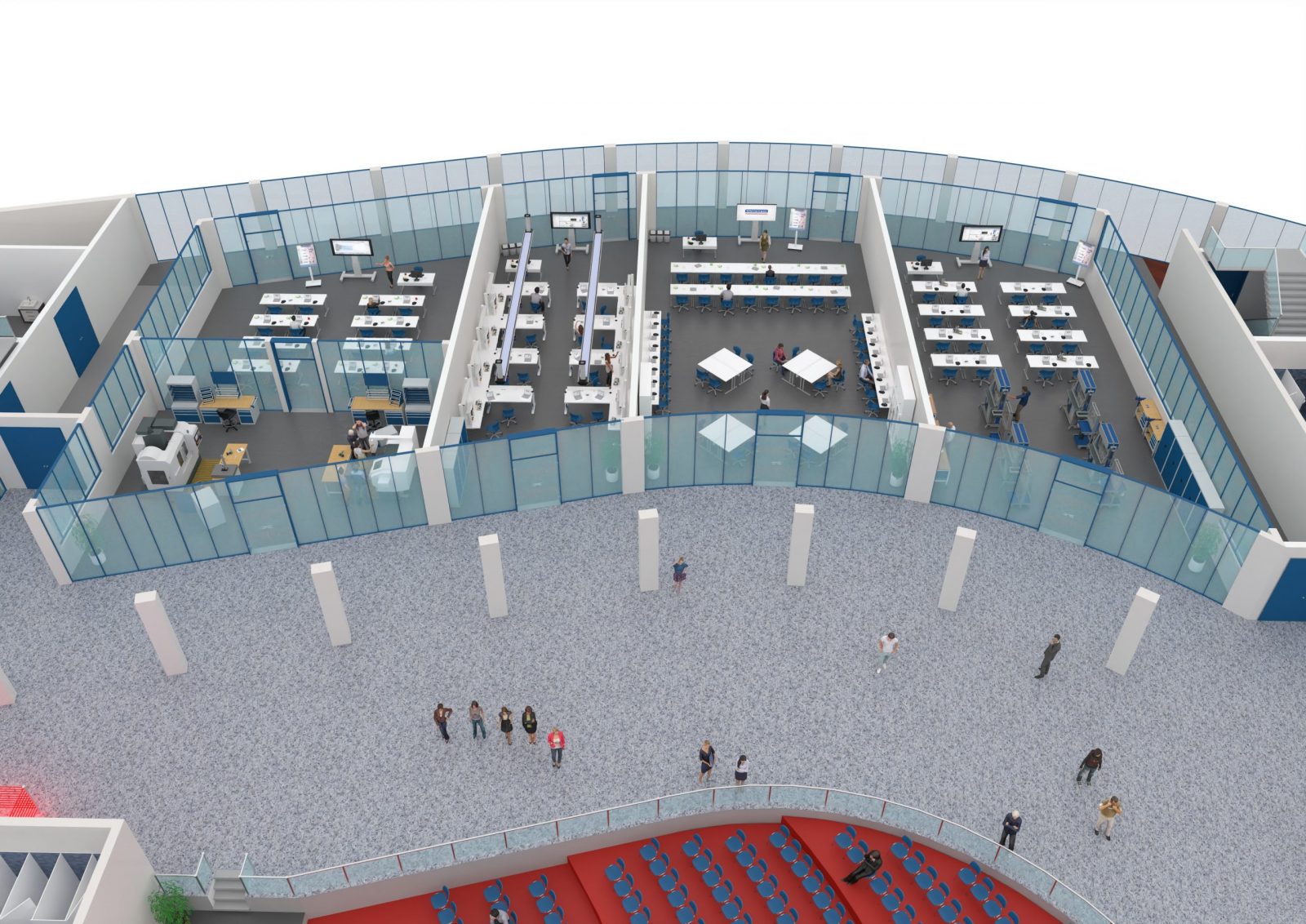 The basis for ideal learning and working conditions
Are you planning to build or extend a training centre? We are happy to support you in all planning steps all the way to realisation. The sooner you involve us in your plans, the better we can advise you. Benefit from our know-how as an education provider with over 90 years of experience.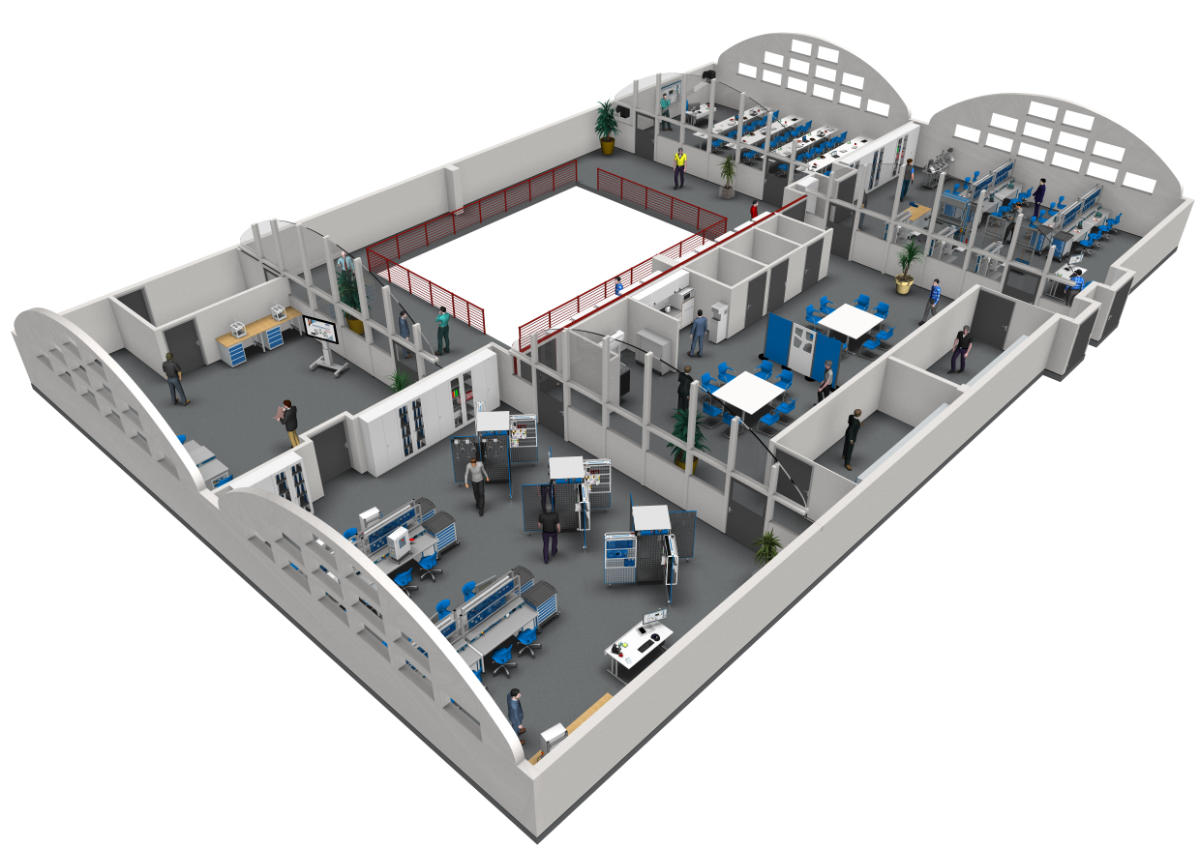 Everything from one source
One contact for your complete training lab equipment until handover
Planning, project management and technical support
Equipment with teaching systems including didactic material
Training courses for trainers