Extensive planning for every room size
With over 90 years of expertise and know-how in technical training, we can implement any technical training solution for you, with competent experts, technicians, masters, engineers and educators, who know what learning and teaching is all about.
Whether it's a workshop, laboratory, learning factory or training centre: we can offer you a comprehensive service for your complete solution, from the fi rst consultation meeting to 3D design and completion.
As a service provider for technical examinations and as a specialist publisher, we have huge potential and a lot of expertise in technical training. We also bundle this experience into the planning and implementation of training lab solutions.
Practical teaching systems and the coordinated didactic media form the core of every training lab. When it comes to fitting the rooms out with furniture, equipment, systems and machines, you will benefit from the expertise and technology of our experienced partners.
Full-service provider for theory and practice
As a complete provider for technical training, we place great emphasis on the close link between didactics and practice. All specialist books, documents, manuals and other media are coordinated to the required content of the curriculum. They are the basis for practical vocational and further training with our teaching systems.
Every Christiani training lab is also based on these didactics and practicality. From project work to learning cases, models and other learning aids, as well as training stands, teaching systems and mechatronics systems: Our learning concepts always focus on the transfer of knowledge, and everything is focused on learning success.
Motivation to learn and sustainable learning success
With us, there's no reason for learners to be grumpy! A wide variety of learning media gets the best out of your trainees – from traditional  ask collections to examination preparation media and interactive tutorials. Many offerings are also available in digital versions, as apps or as e-learning in the Christiani learning portal.
Personnel qualification is the key to success
With train-the-trainer courses, we turn your investment into a worthwhile business. We not only show your trainers how to use our teaching  systems efficiently, but also how to motivate learners and make them enthusiastic about technology. In this way, we help ensure that the  teaching systems are operational and that all learning objectives set are met.
We train trainers with our training stands and teaching systems.
We provide experts with advanced technical training.
Trainers can obtain qualifi cations in our workshops.
We develop digital applications from apps to virtual reality and teach media skills to trainers.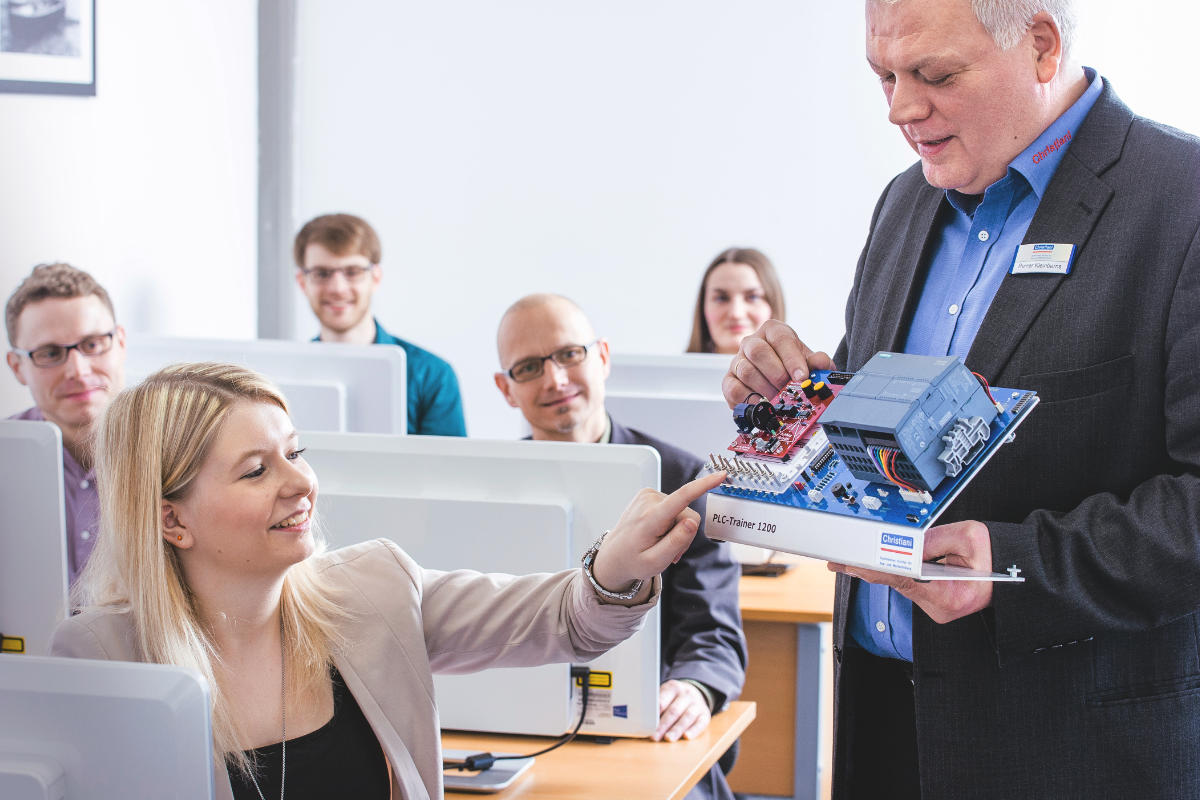 Our set-up concept
Flexible, modular and extendible
Holistic in theory and practice
Proven its worth many times over
Ideally coordinated with the requirements of technical vocational and further training
Comprehensive from the technical set-up to furniture and the didactic documents and teaching aids