Visit us at Didacta in Stuttgart!
We will be presenting our latest product solutions and learning concepts for technical education in Hall 1 at stand 1E10.

The Learning Portal for Vocational Education and Training
C-LEARNING combines all of Christiani's digital learning media in a single portal. E-learning courses as well as digital books, training courses and project work can be easily accessed via the browser.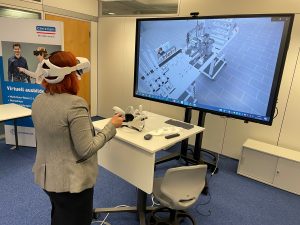 Technical education goes virtual
Our new multi-user room application C-LAB represents a virtual training center – with virtual learning environments, labs and conference rooms. We show you how technical education works with the help of virtual and augmented reality. Immerse yourself in the virtual world of learning.
Smart Factory, the solution for automation technology
Our Industry 4.0 consulting team will be happy to present to you how Christiani's modular mechatronic system can be turned into a complete Smart Factory for education and training. Get an impression yourself and test some applications on our modular mechatronic system SSC 4.0.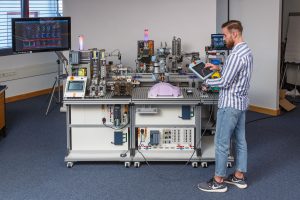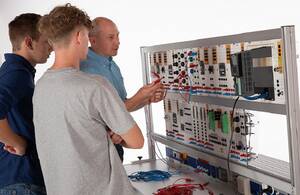 Teaching Systems
Out teaching systems are "all-round carefree packages"! They include everything needed to equip a complete workplace for a specific subject area.
These are, for example, one or more A4 training boards and the matching accessories, such as laboratory cables, components and software. The matching experiment instructions are also included.
Christiani Industry Models
Christiani industry models are used to teach trainees how to program and commission systems. From simple programming to control loops, from the basics to highly complex processes, a wide range of tasks can be realised with the practice-oriented models – completely risk-free:
Selection of the appropriate control system
Wiring the control system to the model
Programming and testing
Commissioning of the system/application
Abstract process thinking
Troubleshooting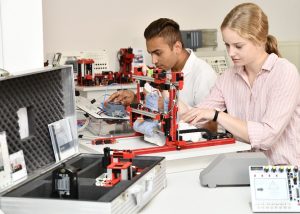 Visit our lectures at Didacta (in German language)
The use of AR, VR, multiplayer and gamified environments for technical vocational training.
(Learning with Augmented and Virtual Reality, Metaverse)
on 08.03.2023 from 12:00 to 12:45 p.m.
Speaker | Harald Fleischmann, Dr.-Ing. Paul Christiani GmbH & Co. KG
Speaker | Frank Draing, Dr.-Ing. Paul Christiani GmbH & Co. KG
Our speaker Mr. Fleischmann is the founder of our company in Africa. He will be able to advise you best.
Digital final examinations – a dream of the future or soon already possible?
on 07.03.2023 from 1:30 to 2:15 p.m.
Speaker | Oliver Heckemann, Dr.-Ing. Paul Christiani GmbH & Co. KG