Christiani at the Didac India 2023
The time had finally come again for Christiani's international sales team to attend the didac India 2023 from 17th to 19 th October.  Christoph Augull, in his role as Area Sales Manager for India, and Mohan Iyer, as General Manager at Christiani Sharpline Technical Training (CSTT), were live on site at the international education exhibition in Bengaluru, India.
More than 210 exhibitors from the international education sector met at the Bengaluru International Exhibition Centre and presented their products and solutions in the field of educational resources and technology-based products. As part of the German Pavilion, Christiani presented their products and solutions on the topics of more diverse education products and solutions to the Indian education and skills sector. The focus of Christiani´s booth was on renewable energies, in particular the HV-Trainer, the H2 Junior case and the VR solutions and projects.
Interested visitors had the opportunity to learn more about Christiani's technical training offers and our digital products at our booth and to receive expert advice from Mr. Iyer and Mr. Augull. The great response and the many visitors to our booth showed that the topic of technical training is highly relevant in India. More than 19,000 visitors from over 34 countries attended this fantastic event.
We had the pleasure to welcome the Minister of Higher Education of India at Christiani´s booth with the result for an invitation to his office for a Christiani presentation.
In addition to the exhibition, there were also many other events in India. Interested visitors as well as exhibitors were able to exchange ideas and obtain information in expert lectures, discussions and panels at the VDMA congress and the iMove event, which included two visits of universities.
In the panel organised by iMOVE, we were part of the expert panel and were able to discuss our expertise and our experiences with regard to the digitalisation of dual education with the participants.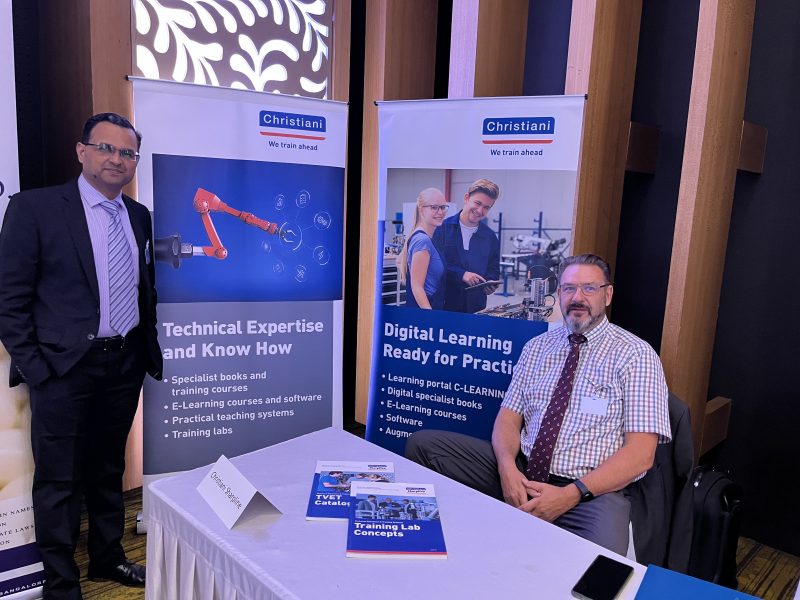 More information about our products and solutions: