At the request of the Constance Chamber of Trade, Christiani has refurbished the sanitary, heating and air-conditioning department at the Waldshut-Tiengen Training Academy. A training workshop, a training room and a storage room/depot were equipped with furniture, workplace systems and modern teaching systems.
At the heart of the vocational training for HVAC mechanics is the spacious assembly workshop, which is equipped with three hexagonal workbenches and three learning units. Each of the learning units offers the possibility of setting up four work areas on just one square meter of floor space. In Waldshut, the learning units are equipped with walls made of wood. Individual configurations can be mounted on these. A modern ceiling supply system is designed for water, compressed air, electricity, gas and integrated LED lighting.
The core of the specialist room is the flexibly deployable heat pump teaching system. The teaching system consists of seven training stands that can be combined in different ways for experimental setups.
Training Stand S1: Geothermal Heat Source or Underfloor Heating
Training Stand S2: Fan Coil as Source or Sink
Training Stand S3: Solar Thermal Energy with Solar Simulation
Training Stand S4: Coupling Component Hydraulic Switch, Plate Heat Exchanger and Buffer Storage
Training Stand S5: Heat Pump
Training Stand S6: Hybrid Collector with PV Components
Training Stand S7: Pellet Heating
In addition, further training stands are available to trainees and instructors, for example to learn and practice the installations of gas, water or a complete bathroom equipment.
With this equipment and the corresponding didactic materials, it is possible to teach pretty much all of the learning content required for modern training as a HVAC system mechanic.
In addition, Christiani has equipped the vehicle technology department of the Waldshut-Tiengen Training Academy with modern e-screens, tablets, laptops and charging infrastructure.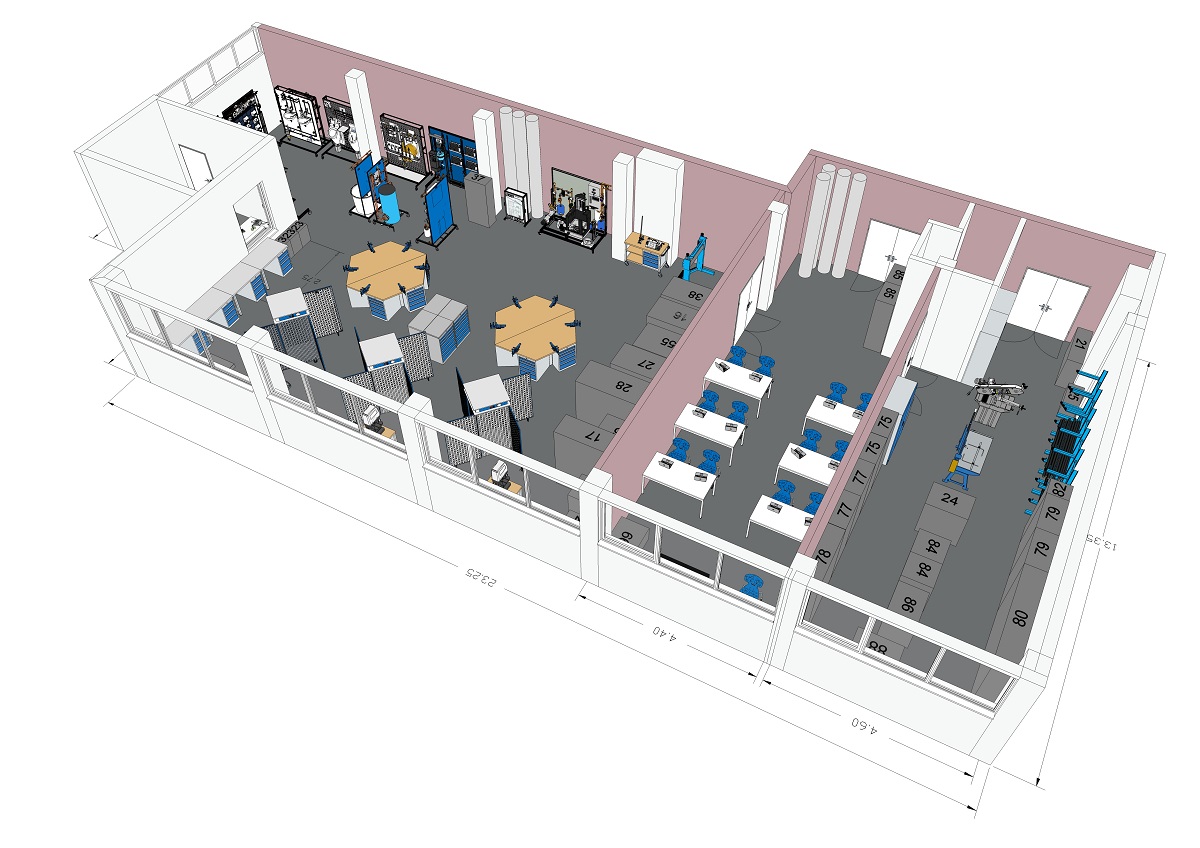 Assembly workshop, training room and depot for HVAC training
The Waldshut Training Academy also uses its own setups at the Christiani learning units.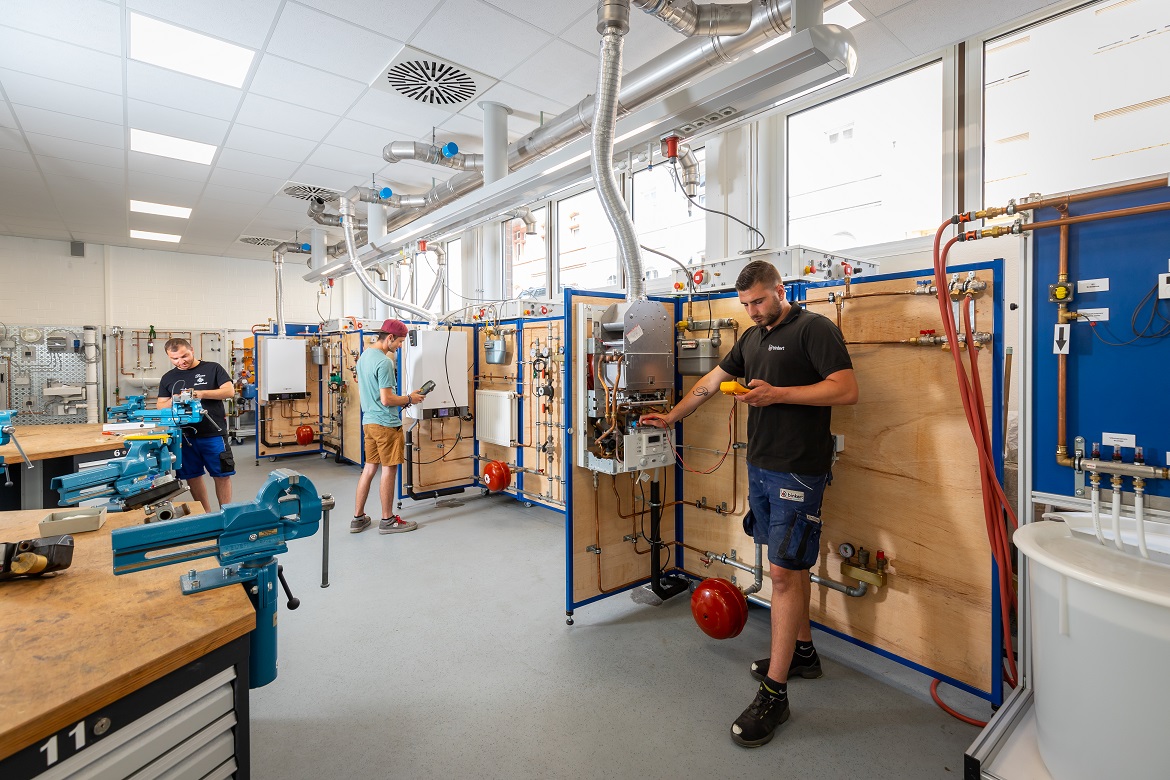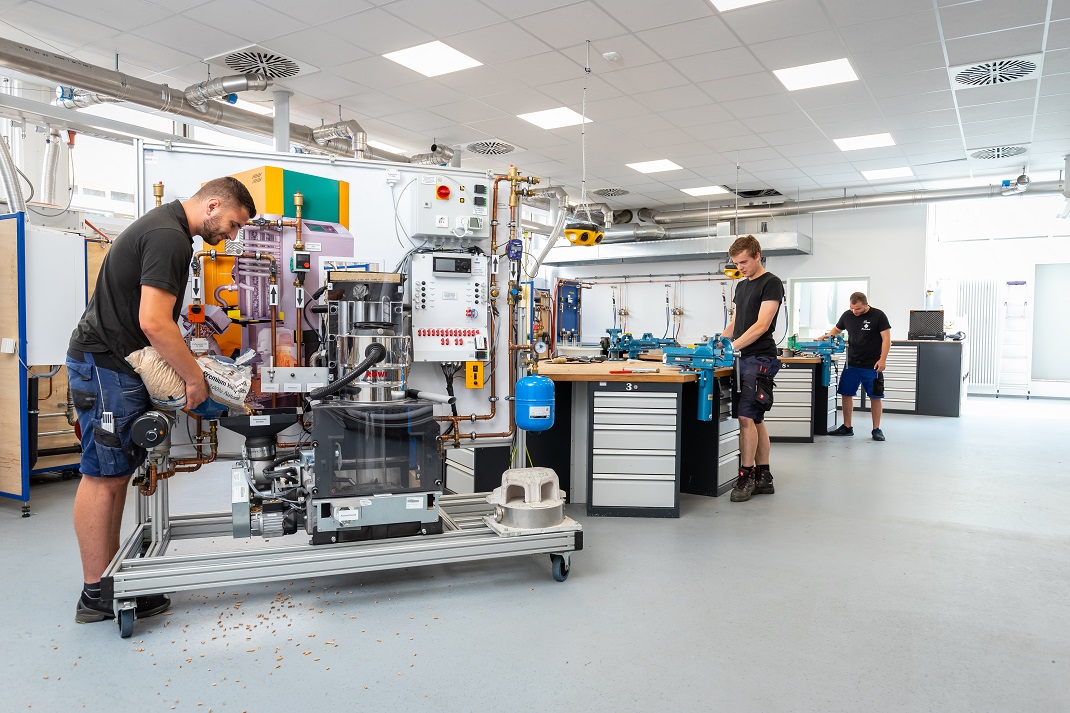 State-of-the-art HVAC training with renewable energies at the pellet training stand.