Christiani equips five educational centres in Pakistan
In five different regions of Pakistan, Christiani equipped one Centre of Excellence each with laboratory tables, learning boards and other teaching systems for electrical engineering. The centres train trainers, who in turn pass on their knowledge to other electrical education teachers.
The government in Pakistan is striving to create sustainable economic development in the populous country. Thus, in 2011, it launched the TVET Sector Support Programme (SSP) to better assist local people, including Pakistanis returning from abroad, in socio-economic reintegration.
Every year, around 1.8 million people enter the Pakistani labour market. However, the capacity for state education and training is currently only sufficient for half a million people annually. Not even a third of young Pakistanis have completed secondary school, and very few have vocational qualifications, so the country lacks a skilled workforce. Therefore, as mentioned above, Pakistan has reformed its technical and vocational education and training since 2011.
The reintegration measures for the resettlement of Pakistanis returning voluntarily from abroad are supported by the German Federal Ministry for Economic Cooperation and Development (BMZ) and the German Society for International Cooperation (GIZ) GmbH in partnership with the National Vocational and Technical Training Commission (NAVTTC).
Design, implementation, training to after-sales
Centres of Excellence were established at five regions in the country: Islamabad, Kotri, Lahore, Hub and Peshawar. These educational institutions offer skills training and teacher training in various disciplines, such as textiles, electrical engineering and metalworking.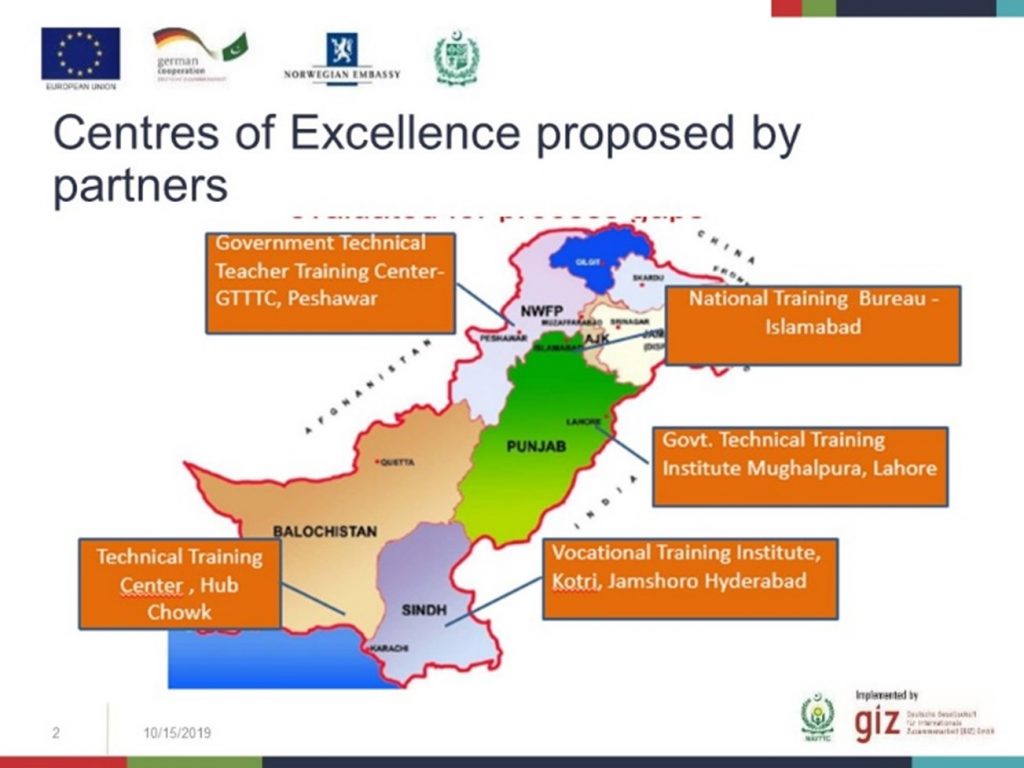 As part of this programme, Christiani equipped the five Centres of Excellence with modern laboratory tables and teaching systems for electrical engineering. Christiani was involved in the entire process, from development and interior planning to budgeting and delivery. The construction and commissioning of the Centres of Excellence was also carried out by Christiani directly on site. Furthermore, Christiani trained 15 trainers in Pakistan on the new laboratory tables, so that these trainers can pass on their newly acquired knowledge of electrical engineering to other colleagues. This lays a foundation for the sustainable training of qualified workers in the field of electrical engineering.
The partnership has supplied and trained laboratory equipment in the following areas:
1- Electrical engineering and electronics
2- Automation technology & electrical machines
3- Mechatronics
4- Microcontroller Technology
Given Pakistan's enormous challenges, such as the country's energy supply and infrastructure development, the training of young people has a particularly important role to play in the country's future. There is an urgent need for qualified workers who, once trained, can contribute quickly and efficiently to a company's production process.
The Christiani employees involved are happy to have made an enormous contribution to this, despite sometimes adverse circumstances on site.