Automation Technology / Electronics
Learning Automation Technology and Electronics Made Easy
In the field of automation technology our training and learning concepts range from the entry into automation technology up to simulations of highly complex processes meeting the standards of Industry 4.0. Our offer of industry models, miniature controllers, mechatronic training systems and the related documentations and specialist books are perfectly suited for teaching automation technology and PLC technology at different knowledge levels.
In the field of electronics Christiani focuses on training case systems, modular training board systems and workstation systems. Of course, all training equipment is supplemented by adequate didactic teaching materials. Central topics are basic trainings, control technology, PLC technology and machine safety.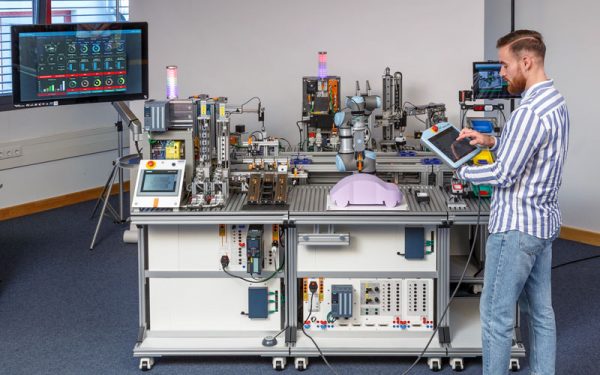 For vocational training in the fields of automation technology and electrics, our product range includes the following offers:
Specialist books, text books and table books
Courses for in-company training
Laboratory tables and training boards
Training Systems for Automation Technology and Electronics
To impart knowledge and skills in the fields of electronics, electrical engineering, and automation technology, we have the right technical teaching material according to the individual level of knowledge of the learner.
A central component for the vocational training and further training of mechatronics and electronics engineers, our range of products includes the entire spectrum of training and teaching materials and specialist books:
mMS Systems: The mMS systems represent a complete manufacturing process – including industry 4.0-compatible components. In addition to complete systems with different technical equipment (PLC/HMI, RFID, robot technology etc.), we also implement individual solutions. Our modular mechatronic system is not bound to a specific manufacturer. The systems can be individually equipped with components that are also used in the company's production, for example. Pneumatics from SMC, control systems from Siemens, robot technology – with the mMS, products from different manufacturers can be combined.
Functional assemblies and stations: The modular mechatronic system (mMS) forms the core of our training concept for automation technology. Functional modules can be combined to form stations, for example for sorting, storage, or transport. These stations in turn are components of complete automation systems.
Project works: our modular mechatronics system mMS consists of functional modules that can be ideally worked on in project teams. This allows action-oriented training to be made practical and interesting. Each functional module is available in different manufacturing stages, as a kit, as a machined assembly kit or completely assembled.
Laboratory tables and training boards with original industrial components for teaching all important contents under laboratory conditions, e.g. on engine management, machine safety, pneumatics, hydraulics, PLC, etc