Vocational Pedagogical Training
Qualification for Trainers and Instructors
Trainers make a decisive contribution to the success of companies by securing the next generation of employees. The different roles, requirements and tasks of training staff require comprehensive knowledge as well as planning, methodological and pedagogical skills.
This expertise is conveyed in courses, workshops, specialist books and other media.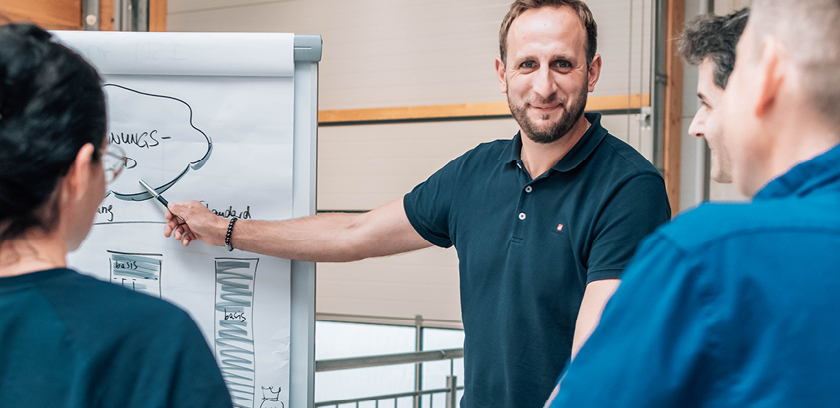 In order to convey the necessary know-how, to qualify your trainers and instructors and to optimise training in your company, it is worth investing in the further training of your training staff. A professional training department contributes to the good image of a company and an institution and ensures the necessary influx of applicants for training positions.
Qualifying trainers and instructors is therefore also a way to secure qualified skilled workers in the long term. We qualify your training staff and make you or your employees fit for the tasks of a trainer.
Instructor Qualification – Training
In addition to technical expertise, training young people is a task that also requires personal and pedagogical qualities. In this course, trainers gain the skills to carry out training professionally, methodically and practically, covering the training plan, learning content to be taught through to schedules for trainees.
The course is particularly effective due to its mix of methods. It conveys the learning content in a short time and in an easily understandable way. The contents are structured according to the four fields of activity.
Learning content:
Checking training requirements
Prepare training
Conduct training
Completing training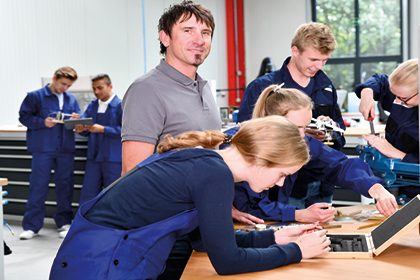 Learning Process Facilitator
The training course for certified learning process facilitators is suitable for anyone who wants to deepen and expand the basic knowledge. It is aimed at vocational trainers who want to reflect on their own pedagogical actions and place their training activities on a solid pedagogical and professional basis.
In addition to the specialist knowledge on the design of learning processes, you will also acquire a great deal of methodological competence in this course, for example on learning offline and online.
Learning content:
Organization and planning of vocational training
processes
Accompanying learners and their learning processes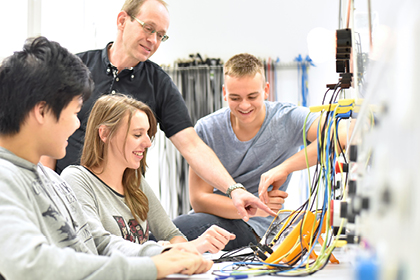 Certified Training and Further Education Pedagogue
The advanced training to become a certified training and further education pedagogue is suitable for all those who deal with the topic of training on a full-time basis. In addition, the advanced training is the first choice for those who want to perform examination or management tasks in education and training.
According to the DRQ (German Qualification Framework), the Certified Training and Further Education Educator course is at level 6. Our advanced training conveys the elementary tools for professional vocational training – from planning and implementing educational processes to advising, accompanying and supporting learners to quality assurance. This is the ideal further training for full-time trainers in companies and educational institutions.
Learning content:
Module 1: Accompanying learning processes
Module 2: Organizing learning
Module 3: Examining and evaluating
Module 4: Accompanying professionals, ensuring quality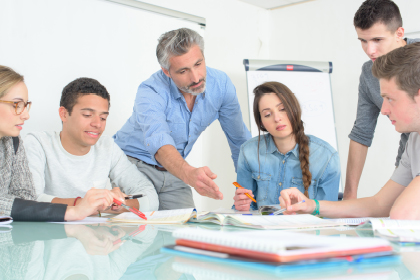 Certified Training Vocational Educator
Vocational educators usually work as managers or specialists in training and further education as well as in personnel development. Further training to become a certified vocational educator is at the level of a master's degree (DRQ7). For those who aspire to leadership functions in vocational education and would also like to qualify for tasks in personnel development or strategic management, our advanced training as a certified vocational educator is the right career step.
Learning content:
Module 1: Accompanying learning processes
Module 2: Organizing learning
Module 3: Examining and evaluating
Module 4: Accompanying professionals, ensuring quality
Module 5: Organization and management
Module 6: Leadership and consulting