Metal Technology
Further Training in Metal Technology
Metal technology includes many interesting and demanding activities for which special expertise and skills are required. In technical books, digital learning programmes, seminars and workshops, we impart the necessary know-how – from basic knowledge to master craftsman. In addition, we make employees fit for their tasks as trainers in the field of metal technology in trainer courses.
Pneumatics / Electropneumatics
This course was developed in cooperation with the company SMC, the world's leading expert for pneumatic solutions. Using practical examples, the course imparts comprehensive knowledge about pneumatic components and systems. Step by step, under professional supervision, you will acquire basic physical knowledge, learn to create and simulate pneumatic plans and gain an insight into electropneumatics.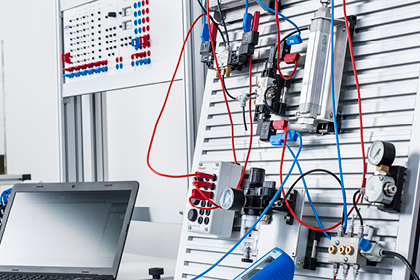 Possible applications and operating conditions of pneumatics
Structure of pneumatic systems
Physical basics
Properties of the transmission medium compressed air
Pneumatic drive elements (cylinders, grippers and pneumatic motors)
Cylinder designs and mounting options
Functionality and types of directional control valves
Possible applications of shut-off and flow control valves
Circuit diagram creation and extensions
Representation with control tasks
Function and fields of application of proportional technology
Basics of vacuum technology
GRAFCET plan representations
Basics of electrical engineering and electropneumatics
Introduction – electrical control of valves
Basic circuits in electrical control systems
Sensors in pneumatic systems
PLC Technology
In this training course, the participants learn the basics of PLC technology and programming with the SIMATIC STEP 7 programming language in a practical manner in six instructional letters. As part of the course PLC programs for various automation tasks are created and tested with a professional simulation program.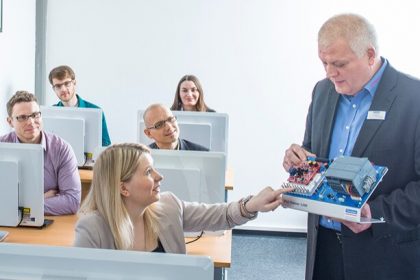 Basic structure and functions of modern automation systems
Installation steps for configuration and parameterization of software and hardware
Well-founded insight into the process-oriented working method and operation of a SIMATIC S7-300
Creation of PLC projects and the systematic design of program sequences and program documentation
Important programming commands in different programming languages (AWL/KOP/FUP)
Program structure with functions, data and function blocks
Standard functions, standard function blocks and individual registers in SIMATIC STEP 7 projects
Practical exercises on the simulation models are used for commissioning and testing
Systematic troubleshooting and error correction
Hydraulics
This course is suitable for anyone who is encountering the subject of hydraulics for the first time. The focus is on safety, basic physics and the structure of a simple hydraulic system. Furthermore, the function and schematic structure of various components are covered extensively in the course to help participants get started with hydraulics. With the help of various measuring methods, the special features and effects of area ratios are demonstrated in practice, among other things.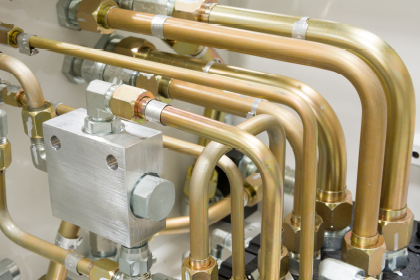 Drive Technology
Starting from some general basics, the most important types of drives are introduced one after another in this course. Every electric drive is characterised by its electric motor. The considerations of the drives will therefore always begin with functional descriptions of the type of motor used and will then be extended to the actuators and methods for controlling and regulating the drive.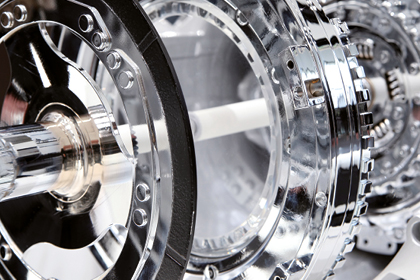 Basic structure of modern electric drives
The structure and main components of DC drives
The structure and operation of an asynchronous motor, a frequency converter and a speed-controlled asynchronous motor
The differences between V/f control and vector control
The application areas and special features of servo drives
The control and optimization of servo drives
The application areas and special features of stepper drives
The classification of electric drive systems in automation solutions
Designing solutions for motion control applications
Electromagnetic compatibility
Practical work with virtual test benches
3D Construction
This course teaches the diverse possibilities of object-oriented design with the CAD program SolidWorks®. Participants learn to create 3D models with the CAD software SolidWorksDIN, to design their own shapes as well as to design components and assemblies.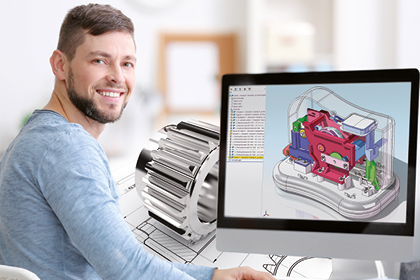 Basics of 3D modeling with CAD
Designing and constructing 3D objects on the computer
Basics of assembly design
Creating sectional and detailed views
Collision check in the assembly
Motion simulation on the model
Project management
2D drawing derivation
Industrial Foreman Metal
Technological change in industry is leading to new structures, courses of action and demands in companies. As a result, there is a growing need for middle managers in industry. This is where the metal industry foreman comes in. Industrial foremen in the metal sector are coordinators, consultants and managers in their companies. As an intermediary between skilled workers and company management, you assume responsibility for production and employees.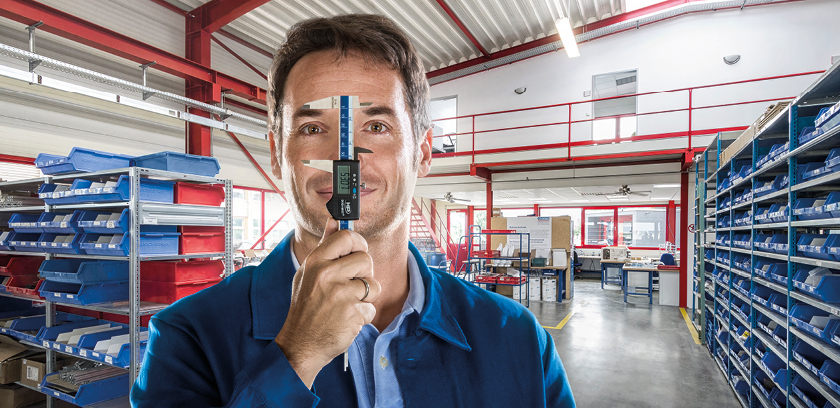 Acting in a legally conscious manner
Business management
Application of methods of information, communication and planning
Cooperation within the company
Cost accounting
Consideration of scientific and technical laws
Operating technology
Production engineering
Assembly technology
Operational costing
Planning, control and communication systems
Occupational, environmental and health protection
Personnel management
Personnel development
Quality management