Secure Examinations
Your Right Partner for Sure
We have decades of experience in organising exams; for example, we have been working for over 50 years as a service provider for the PAL, the examination task and teaching material development office of the Stuttgart Region Chamber of Industry and Commerce. Since 1971, we are responsible for the production (typesetting, printing, processing and logistics) of the industrial-technical examinations for dual vocational training on behalf of the PAL. In addition, we create examination task pools that ensure a high level of validity of the examination, among others for associations, chambers of industry and commerce and chambers of handicrafts in Germany.
Our Services for You:
Organisation and handling of examinations in their entirety
Development of an exam task pool
Creation of exam sets
Creation of media such as images, videos, animations
Database for archiving
Applications for augmented/virtual reality
Printing and provision of all examination documents/data
Complete logistics from creation to on-time delivery (for analogue exams)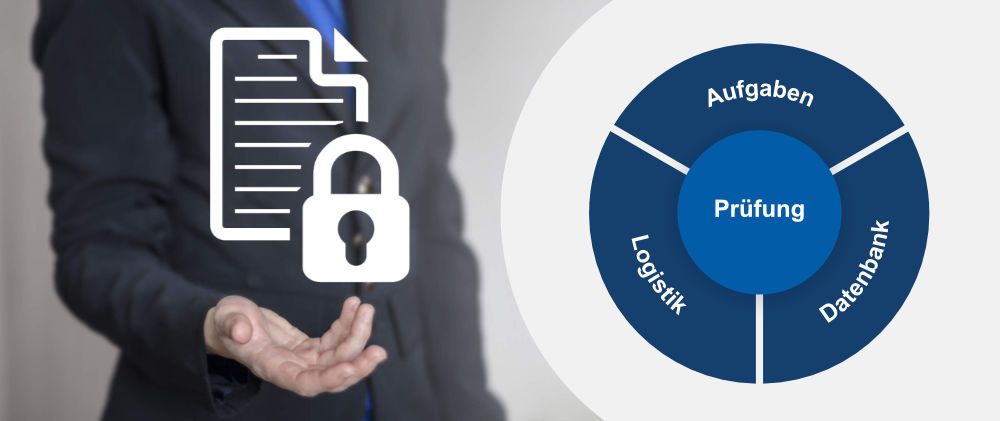 Ensuring Confidentiality and Security
Legal Certainty

We ensure legal certainty from the preparation to the implementation of examinations.
Confidentiality

We ensure confidentiality through an internal security area and the use of the highest levels of security.
Proofreading

We proofread with a high degree of specialisation in technical tasks and ensure consistent quality.
Users of the EXPLA Online Platform
Our Clients Include:
Exam Management from a Single Source: