Training Lab Concepts for Technical Education and Training
Training labs, learning rooms, laboratories, workshops are educational spaces, spaces in which vocational training and further training all come to life. Spaces that are conceived and designed so that teaching and learning can take place under the best possible conditions. Spaces that ideally prepare learners for the demands of their technical profession. With state-of-the-art technical equipment, with practical teaching systems and with didactically prepared materials.
To achieve this, we work enthusiastically on the realisation of your educational spaces, from individual training labs and workshops to complete educational centres. We are your partner for technical education in vocational and further training. Your expert and initiator for educational solutions.
Do you have a clear idea of what an ideal training lab should be like? A training room, laboratory or workshop in the 21st century. A training workshop where learners can acquire the technical basics and knowledge for the overall process that they need for their training and later profession.
We are working intensely on our new Training Lab Concepts website
– be curious and visit us again soon!
On this website we will give you suggestions and present you with actual training lab solutions on the following topics:
Automation Technology / Industry 4.0
Metal Technology
Electronics
Renewable Energies / HVAC
Automotive Technolgy
We will be happy to advise you in detail – even from the first preliminary considerations!
Discover our training lab equipment for your region: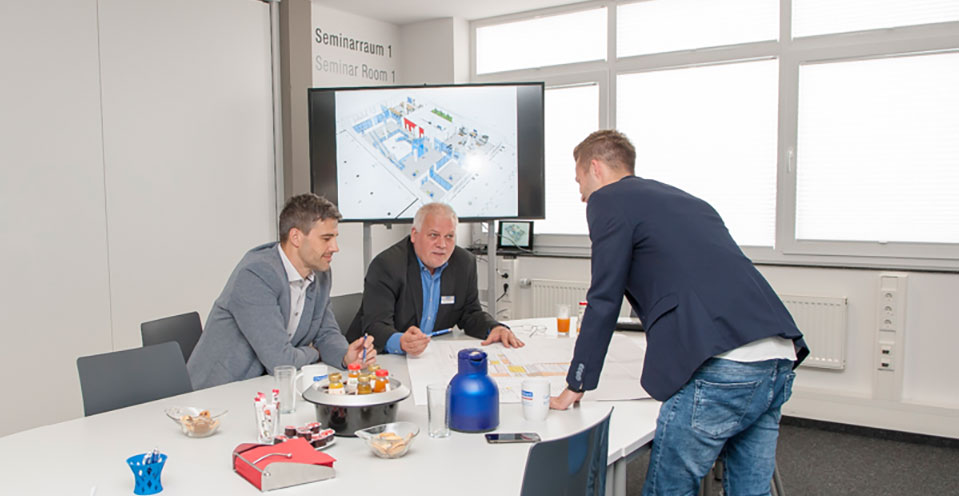 Detailed Planning for any Size of Room
From the training lab to a complete educational centre – when it comes to training lab solutions, we think big! We plan your training labs and furnish them completely. From tools, specialist media, training stands and teaching systems to the necessary didactic handouts and documents.
We realise any technical education solution for you. With the know-how of 90 years in technical education and training. With skilled experts, technicians, master craftsmen, engineers and educators who know what matters when it comes to learning and teaching.
No matter if workshop, laboratory, training or education centre: we offer you the full service for your complete solution. From the first consultation to the conception with 3D visualisation to the completion.
As a service provider for technical examinations and as a professional publisher, we have a great deal of experience and know-how in all aspects of technical education. We also combine this experience in the planning and implementation of technical training lab solutions. Practical teaching systems and the matching didactic media form the core of every technical training lab. When equipping with furniture, operating centres, systems and machines, you benefit from the know-how and technology of our experienced partners.
Our interior design concept:
Flexible, modular and expandable
Proven many times over
Comprehensive in theory and practice
Ideally suited to the needs of technical education and training
Comprehensive from technical equipment and furniture to didactic materials and teaching aids
Hands-on training spaces for technical education
The requirements, expectations and objectives of vocational education and training are changing. Traditional concepts, such as the complete action model, are still valid. But the focus is shifting. Other important skills are being added that are in demand in order to survive in a digitalised, collaborative and networked professional world.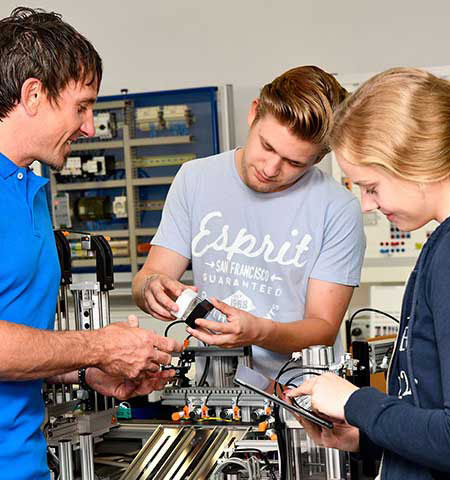 State-of-the-art technology for Industry 4.0
The advancing industrialisation offers interesting opportunities, such as global networking and individualised production from batch size 1. However, it also presents us all with new challenges. How do you impart the necessary know-how for the overall process in networked production?
What additional skills are required to be able to apply new information and communication technologies in classic training occupations? We offer you solutions, from teaching and learning materials for the required qualifications to a complete Industrie 4.0 training lab with Smart Factory. We look forward to your educational project.
Digitisation in education
The digital learning revolution is here to stay. The year 2020 has greatly accelerated some developments, such as remote learning and home schooling. We have already implemented much of the required learning content in digital media, such as apps, webinars, online training and virtual applications. Suitable for use in the training lab, classroom, workshop or for learning from home.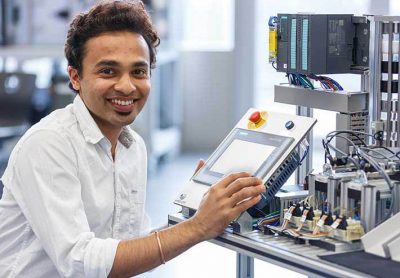 International use
The successful German model of dual vocational training is also becoming increasingly popular internationally. Many companies also want to enable the same standard of training at their locations around the world. International education providers and companies are looking for solutions for vocational education and training and especially for further training for training staff. We create media in different languages, train trainers and realise training labs all over the world.
Do you have any further questions?
We will be happy to advise you on which solution is best suited for your company or educational institution.